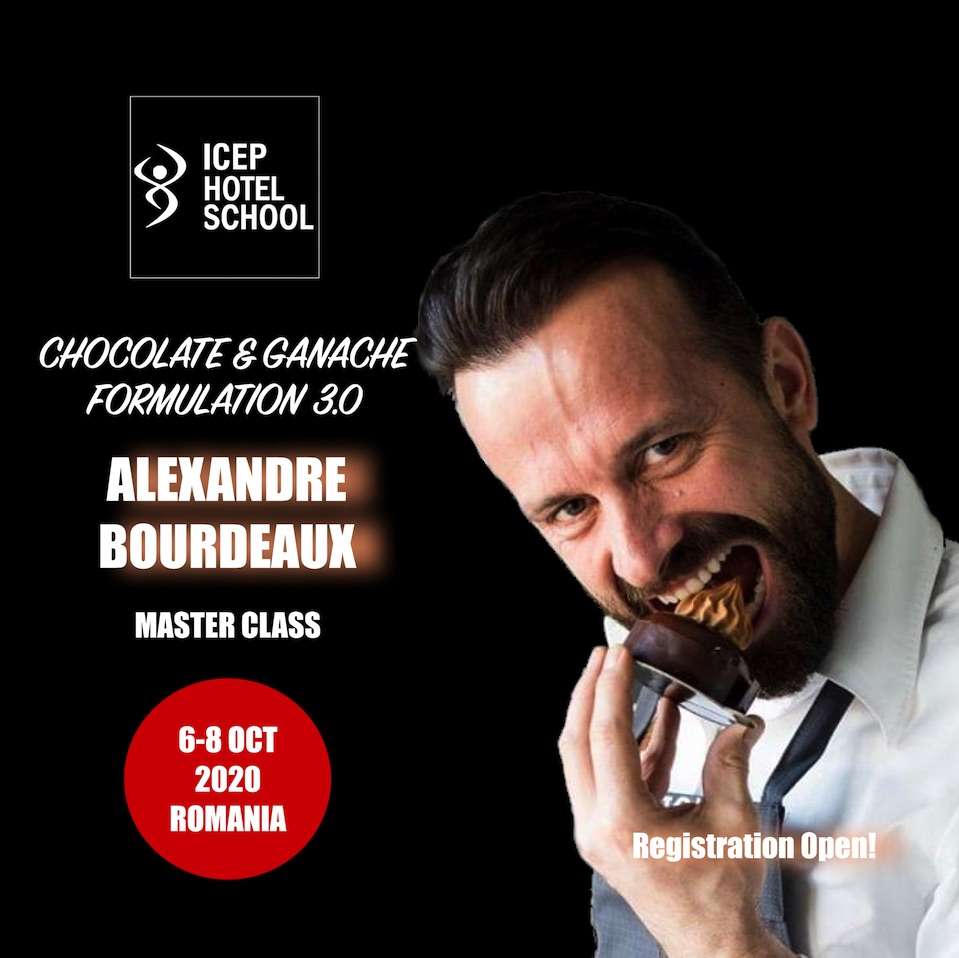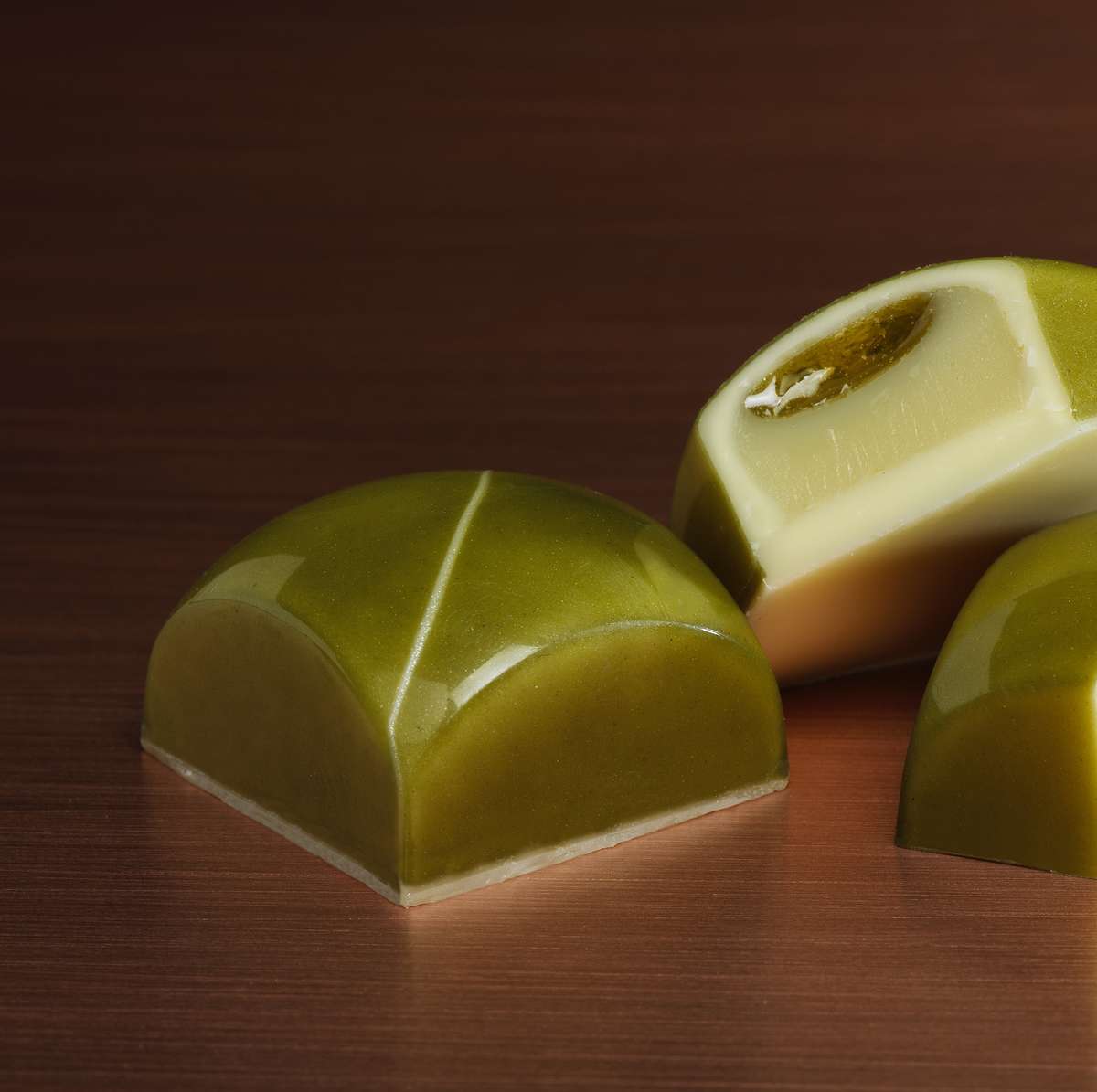 We are excited to invite you to a New Concept MasterClass:
CHOCOLATE & GANACHE FORMULATION 3.0
by
ALEXANDRE BOURDEAUX
3 Days MasterClass


Join us and learn how to formulate a balanced and stable
ganache recipe from scratch!

Dates available: 6-8 October, 2020
Bucharest, Romania

Registration Open!


What is the course about?

By attending this course you will understand
how to formulate a balanced and stable ganache recipe, understand the taste,
texture, structure and shelf life.
You will be able to create your own ganache formula from scratch.

The theory of ingredients composing a ganache

In order to understand the composition of a ganache
it is essential to understand the ingredients that compose it, what are they made of
and what are they used for?

How to improve the life of a ganache?


You will understand the errors to avoid in order to keep a ganache suitable for
consumption. Some ingredients will be cited as preserving.
It is important to
understand the different types of degradation of a ganache.


"Ganache Solution" - A software which can ease your life


During the class we will work with this amazing online tool which will allow us to balance
our own ganache recipes and understand the taste, texture, structure and give
us an indication on the shelf life.
The software has been designed to work in
an intuitive way, a smart tool that will avoid us to test the recipes several times.
Please bring your laptop or tablet to be able to access the software.



Creating your own recipes


After studying the theory of ingredients together,
with the support of Chef you will create your own recipes during the class.
We will start with simple recipes to continue to
more complex recipes in their balance composition.


Tasting and report

Chef will give you the tools to have an objective tasting and after a day of crystallisation,
the ganache will be tasted together.
The recipes will either be validated or will need to be improved.
In case they are not validated, we will analyse the defect (s) of each of them and understand how to
modify them in order to improve them.


Tests in comparison


With the help of our amazing software - Ganache Solution, we will be able to compare up
to 3 recipes together.
When the recipes are improved, we will be able to taste these recipes in comparison.


Meet Chef Alexandre Bourdeaux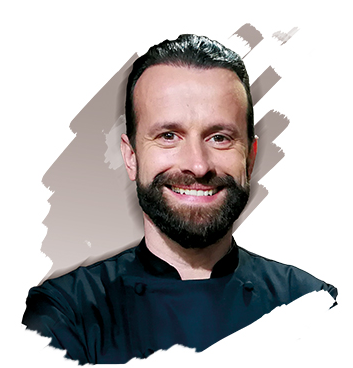 Following my inspirational passion, I start at an early
age my education as a pastry chef.

After graduating from Pastry and Chocolate school in
Brussels, I gained experience, which gave me a wider
vision about the world of pastry.

At 20 years old, I moved to Italy and, after a few years,
I had the chance to join the team of Sergio Mei at the Four Season Hotel in Milan.
This allowed me to travel all over the world,
acquiring new experiences working as a pastry chef
in luxury hotels in Cairo, Japan, United States and UK.

Over the years, thanks to the collaboration with Barry Callebaut,
I became more and more confident with the
technology and the chemistry of chocolate.

In 2014 I became Head of the Chocolate Academy™ in Belgium
and led the opening of the new Chocolate Academy™ Callebaut,
marking an historical moment in the story of the brand.
Then I started teaching worldwide and I realize that this was my future.

In 2016, I create my own company "Pastry & Chocadvice".
As the name suggests, I give advice, help & solutions in the world of pastry and chocolate, sharing my
knowledge and technics.

In one word, "I do what I love".

In March 2018, I launched my online software "Ganache Solution"
to help chefs monitor their own recipes.


Choose Your MasterClass:

Dates available:
6-8 October, 2020
Location: Bucharest
Type of MasterClass: Theory, Demo + Practical/Hands-On
Language: English + Romanian Translation
Participation Fee: 695 €* - Early Bird Price, available for bookings until January 15, 2020
After January 15th 2020, Normal Price of 765 € shall apply.

Who should attend?
This class can be attended professional pastry chefs, chocolatiers, chefs, pastry students with chocolate and pastry experience.




Payment can be made in 2 installments,
60% in 4 days after the booking,
40% of program fee shall be paid latest 6 weeks before the event date.

Payment can be made via bank transfer into our account:
Account Holder: ICEPWORLD AGENCY SRL
Bank: BANCA TRANSILVANIA, ROMANIA
IBAN: RO40BTRLEURCRT0258391002
SWIFT: BTRLRO22

Online payment with credit/debit card available for Full Payments Only!


Kindly take into consideration that we have limited places for these MasterClasses and the demand is very hight.
To avoid disappointment, we advise you to book your place as soon as possible and send us a copy of
Payment Receipt
and
Registration Form
by email to
office@icephotelschool.com
.
Download Registration Form
Important, please keep in mind:
– The payment is valid only for the date of the workshop and is non refundable. We are sorry, but once you booked your seat, there is no possibility of refund if you cancel your attendance.
– It is not allowed to take pictures, to film and distribute/share the step by step preparation in class without the consent of the organizers.
– It is not allowed to distribute/share the recipes of the MasterClass.
– The participants understand and accept the conditions described above.
-If you need accommodation nearby the place of venue, contact us for recommendations.




Why Choose Bucharest as your
NEXT MASTERCLASS DESTINATION?
The 'new Berlin'. The 'little Paris of the East'.
Or, simply, Bucharest, the City of Contrasts.
Super Affordable.
Safe.
Hip.
Read about Bucharest, check out our recommendations for air flights, accommodation, restaurants and sights to see.
READ ARTICLE



ICEP HOTEL SCHOOL
BUCHAREST, ROMANIA
Gramont Street No. 38, Sector 4
ZIP: 040182



Looking forward to meet you :)
MAGIC TEAM